Everyone, we mean EVERYONE loves Cinnamon Rolls. What could possibly make them better? Pecans, of course! Get your hands on some of our pecans, quick! So that you can make these ooey gooey, delicious Pecan Cinnamon Rolls for yourself!
Dough
1 packet dry active yeast
1 to 1/4 C lukewarm water
3 C King Arthur Unbleached AP Flour
6 TBSP unsalted butter, at room temperature
3 TBSP sugar
Cinnamon Filling
1/2 C granulated sugar
1 TBSP Cinnamon
2 tsp AP Flour
2 C pecans, finely chopped
2 TBSP melted butter- for brushing the dough
Vanilla Glaze
1 1/2C powdered sugar
1 tsp vanilla extract
5 TBSP milk, or enough to make it smooth and spreadable
Dough
Dissolve the active dry yeast in the lukewarm water, give it a good stir to agitate the yeast. Let it sit at room temperature for 15 minutes until it has started to foam.
Combine the yeast and water mixture with the flour, butter and sugar. If you're mixing by hand, knead and mix everything together until it forms a smooth round ball (about 5 minutes). To do this, fold it in half unto itself and alternate folding sides. If you're using a stand mixer, use a dough hook and second speed, until it forms a small ball around the hook, leaving the sides of your mixer mostly clean.
Place the dough in an oiled bowl or container. Cover and let it rise until it's nearly doubled in bulk- about 1 to 2 hours depending on the room's temperature. If you're looking to speed it up- set it in a warm, moist corner of your kitchen.
Meanwhile whisk together all the ingredients for the filling and set aside.
Once the dough has risen- on a lightly floured surface roll out the dough with a rolling pin into a 16 inch by 12 inch rectangle. Brush the dough with the melted butter, then sprinkle the cinnamon filling evenly over the dough.
Roll the dough into a log the long way- starting on a 16" side. Using a serrated knife, slice the log into 16 even slices. Place into a greased baking dish, use two dishes if necessary.
Cover the pans and let the rolls rise for 1 to 2 hours. It is ok for them to touch once they're done proofing.
Preheat your oven to 375 degrees.
Once the rolls have risen, bake for 20 minutes, or until they're turning golden brown across the center.
Spread the baked rolls out onto a cooking rack and drizzle icing across all of them.
Enjoy!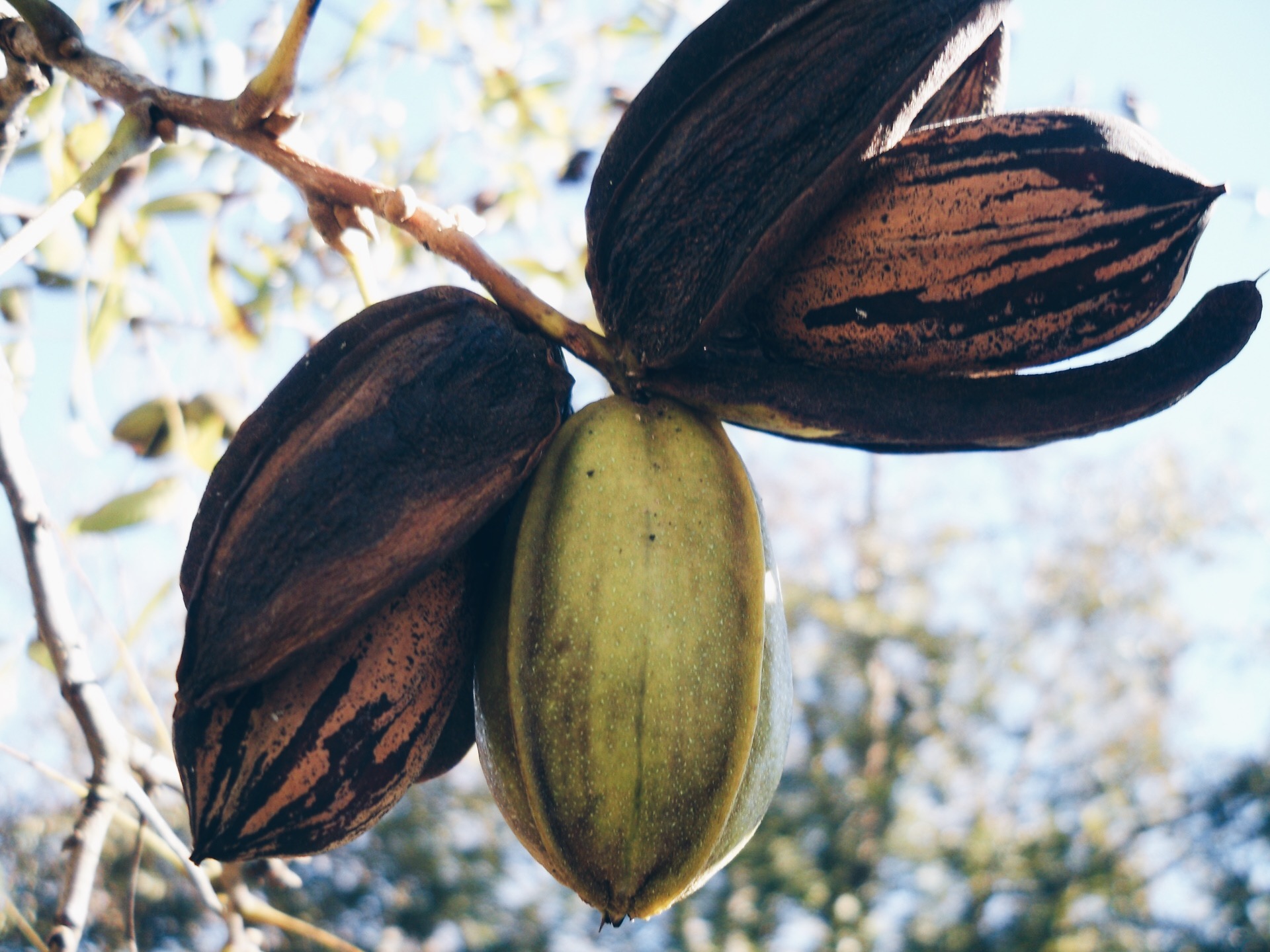 LOVE OUR STORY?
YOU'LL LOVE OUR PECANS MORE
Head over to the shop and get yourself a bag of your own